EVEN MORE PERFORMANCE
Maximum Results, Minimum Effort
Up to 98% of our test subjects confirm visible results after just 7 days*
As an ampoule pioneer, we have put all of our expert knowledge into the further development of the ampoules. The result: newly interpreted active ingredient concentrates that are now even more perfectly tailored to the different skin needs.
We combine 66 years of research and expert knowledge for immediate, visible results
Our ampoules are 100% clean & vegan and contain up to 97% natural ingredients
Sustainability is a top priority
In addition to an ampoule opener made from recycled material, we no longer use cellophane wrapping or the enclosed leaflet
HYDRA PLUS against dry skin 92% of our test subjects confirmed that skin felt immediately moisturized*
DISCOVER NOW
COLLAGEN FIRMING for mature skin with collagen loss 94% of our test subjects confirmed skin looked plumper after a week*
DISCOVER NOW
MULTI VITAMIN against tired skin 95% of our test subjects confirmed healthy looking skin after one week*
DISCOVER NOW
ACTIVE NIGHT for skin in need of regeneration 100% of our test subjects confirmed that the skin appears relaxed*
DISCOVER NOW
ACTIVE PURIFIER against impure skin 85% of our test subjects confirmed that skin looks clearer overall after a week of use*
DISCOVER NOW
ALGAE VITALIZER against dull skin 97% of our test subjects said their skin felt instantly refreshed*
DISCOVER NOW
PERFECT GLOW against dull skin 97% of our test subjects confirmed that their skin appeared brighter and more even after one use*
DISCOVER NOW
LIFT EXPRESS for mature skin with wrinkles 97% of our test subjects said their skin felt tighter after 15 minutes*
DISCOVER NOW
3D FIRMING for mature skin with loss of control 88% of our test subjects confirmed that their jawline/contour appeared more defined after a week of use*
DISCOVER NOW
INDIVIDUAL PRODUCT ADVICE
Are you still thinking about which ampoule is perfect for you and your skin concerns? Test our digital skincare advisor to find the right one or let our beauty experts advise you personally.
MORE advice Find the right ampoule: Our beauty experts are there for you by phone, chat and video consultation.
CONTACT US
Spa Locator Find the BABOR Spa near you. We also offer great ampoule treatments.
FIND YOUR SPA
Digital skincare advisor Our online beauty advisor will help you to find the perfect ampoule for your skin needs.
GOOD FOR YOUR SKIN. GOOD FOR OUR PLANET.
100% MADE IN GERMANY
Exclusive look behind the scenes!
Did you know that the entire development and production process for our ampoules takes place at our Aachen headquarters? Our ampoules are therefore 100% CO2 neutral and you are not only doing something good for your skin, but also for the environment.
The BABOR ampoules are clean and are formulated of 97% natural ingredients. They are vegan, free from silicones, parabens, PEG's, synthetic polymers and dyes as well as lactose, gluten and mineral oil. Plus, the folding box is made of 100% recyclable material and the ampoule opener is sustainable.
OUR AMPOULES 101
What you should know about our ampoules.
AMPOULE VS. SERUM
Difference between ampoule and serum
Both ampoules and serums can be absorbed particularly well by the skin due to their fluid consistency and have a particularly high combination of active ingredients for maximum results.
The Ampoule
• Achieve quick, visible results after just one application
• Improves your current skin condition by addressing an acute skin need
• You can perfect the result with 7-day use
The serum
• Should be firmly integrated into your daily beauty routine and used permanently
• Helps you to achieve your care goals and improves your skin condition over the long term
• Applies as an active ingredient booster for the following products
THE PERFECT TIME
When it should be used
Ampoules offer additional care and can therefore be used from time to time, for example for an upcoming event, or over a longer period of time as a cure. They are available as a weekly cure in an ampoule box. In order to achieve visible effects, the high-quality ampoules should be used for a total of seven days in a row. An application over several weeks can improve the result even more!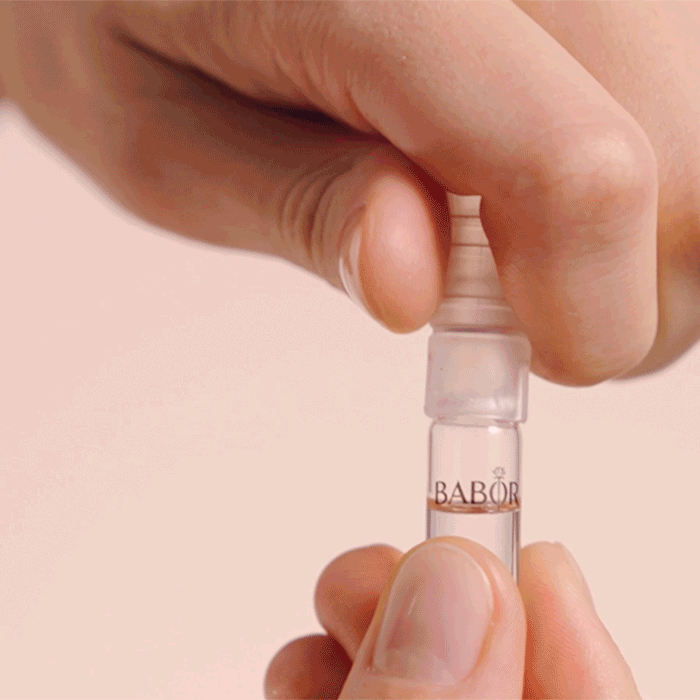 HOW IT'S DONE
How to open the ampoule and how to include into your routine
You use the ampoule after cleansing your face before you apply your day or night care.
How to use the ampoule:
Shake the ampoule and cover the neck of the ampoule with a tissue or the enclosed ampoule opener.
Hold the ampoule by the ampoule neck or opener and break open the lower white ring with a jerky movement.
Put the concentrate in the palm of your hand and then apply to the face, neck and décolleté. Gently pat into skin.
Use the ampoule in one application. Because the 2ml active ingredient concentrate contained is optimally dosed for a single application with an immediate effect.
Apply moisturizer.